Shaheed K. Abdullah, L.Ac. DNBAO is a graduate of Yo San University in Los Angeles California and holds a Masters Degree in Traditional Chinese Medicine. He is a California State Board Licensed Acupuncturist and a one of five National Board Certified Orthopedic Acupuncturist in San Diego. 
As the former Acupuncture Coordinator at Kaiser Permanente in San Diego, he has over 18 years experience specializing in a Natural Rapid Recovery approach to the Healing Process and is highly referred by Top Orthopedist, Sports Medicine, Work Comp, VA and Pain Physicians in San Diego. 
"My first experience with Traditional Chinese Medicine after a college football injury changed my life. I was actually scared to death of needles and although I got past the fear, I make it a point to be very gentle with my patients.
I have been fortunate to train under masters in my field and gain confidence early in my practice using Dr. Richard Tans Balance Method to achieve instant results in relieving pain, increasing range of motion, function and mobility. But nothing is more satisfying then when a patient states, "I wish I tried this years ago."
Acupuncture, The #1 Question we get is the famous

'Does it Hurt?'
The short answer is, YES, but I'm a Big Wimp and hate needles. Ok, in truth not as much as you probably think. What do I mean by that? Well, when the majority of people hear the word 'needle' they immediately make an association with a hypodermic needle and getting a 'shot' at a doctor visit.
The problem with that is two fold: 
1) Hypodermic needles are a heavier gauge (thickness) than acupuncture needles
2) The real pain involved with getting a shot is not from the needle penetrating the skin but from the actual injection of the liquid into the body.
The discomfort you might feel when an acupuncture needle is tapped into position is not nearly as bad as a single hair being pulled out of your arm. In fact, the majority of the times you won't even feel the needle penetrate the skin at all. 
That's right, it is not the needle that hurts.
Once the needle is inserted (Does Not Hurt) it is guided in a little further until the muscle contracts…. That in turn engages the nerve attached to the muscle aka peripheral nervous system to induce the production of Serotonin, Oxytocin, Dopamine and Pain Killing Endorphins, which everyone loves.
Does Health Insurance Cover Acupuncture? 
We accept all insurance plans that cover acupuncture. 
This can be a bit time consuming so give us a call at 858-467-9893 or simply take a picture of the front and back of your insurance card and email it to us along with your date of birth to healingartshealthcenter@gmail.com 
Our team up front Marie, Samantha or Emily will give you a call back or contact you by email after verifying your insurance and go over coverage and co pays for acupuncture treatments, follow up treatments, cupping and custom compound herbal formulas. 
If you know your insurance covers acupuncture or you see us listed on your plans webpage then go ahead and Click on "Book Now" to see our online schedule in real time for availability to book your appointment.
Here are just a few of the insurance companies we are currently contracted with that cover acupuncture benefits: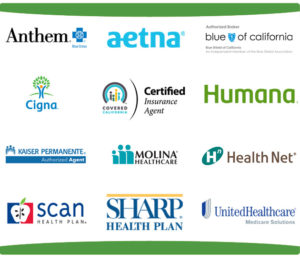 Is Acupuncture Covered for Auto Accidents & Personal Injury?
Yes, we accept Med Pay aka Personal Injury Protection (PIP). Contact your auto insurance company and confirmed Med Pay or PIP coverage. All medically necessary claims will be billed to your auto insurance company.
You do not have to use your Health Insurance, meet deductibles, pay co-pays, pay out of pocket and wait for auto insurance companies to reimburse you.
Just focus on getting better.
If you do not have Med Pay then you may need a Lien. Yes, we accept Attorney Lien cases.  
If you have an attorney and need treatment on a Lien then a quick conversation with your attorney and both parties signature on a Medical Lien Form is all we need to get your treatment started.
Pains from auto accidents often go undetected, not showing up until days or even weeks later. Give us a call 858-467-9893 and we can walk you through the process from the beginning to the end.
Does Workers Compensation Cover Acupuncture?
Again, Yes. If you have been injured at work or on the job you may receive acupuncture treatment as part of your compensation. 
California Labor Code Section 4600 specifically mandates that employers must provide injured workers with appropriate treatment including acupuncture, if needed, according to ACOEM guidelines.
If your Primary Treating Physician (PTP) or Insurance Claims Adjuster has referred you to our office for treatment then you are in great hands and may Book Online as a New Patient or give us a call to set up your first acupuncture treatment.
If you have found us on your own and would like to add acupuncture to your treatment plan, the first step is to have your PTP submit a Request for Authorization (RFA) to acupuncture from the insurance claims adjuster.
In my practice I have treated many workers' comp and Dept. of Labor cases and as a former QME I can answer many questions prior to your first treatment.
Please email me directly at sabdullah@healingartshealthcenter.com or give us a call at 858-467-9893 and we will get you started.
We are on most MPN's and will be happy to contact your Primary Treating Physician (PTP) or workers compensation insurance adjuster for pre-authorization to start acupuncture treatment ASAP. 
 What Next?     
Make an appointment! As the saying goes 'you won't know unless you try'. If you are looking for a New Acupuncturist or trying Acupuncture for the first time you will be happy you chose Healing Arts Health Center. We accept Work Comp, Dept. of Labor, Personal Injury, Medical Legal (Auto Insurance), PPO and most HMO's. 
Give us a Call or Email Today! We look forward to being apart of your Healing Process!!
Hear what some of our patients have to say on Yelp, Google and Genbook Reviews.

Reviews from around the Web
Having suffered from an automobile accident in 2010 and enduring the physical strains of being a mail carrier for the US Postal Service the last 32 years, I have developed moderate to severe osteo arthritis in my knees, lower back and shoulders. The pain at times was so overwhelming I slept in a reclining chair for months. Since coming to The Healing Arts Health Center my pain and quality of life is tremendously better. Shaheed is right on point with my pain management. He is professional and knowledgeable and always knows exactly how to calm my pain down. If you haven't tried the cupping you should, I love having it right after my acupuncture treatment. I also want to say his staff is great, they are always pleasant, friendly and accommodating. Thank you Shaheed!!!!
John B.            10/4/2017
genbook.com – over 100 reviews
Shaheed has helped eliminate the pain from my carpal tunnel syndrome in both hands, due to pregnancy and overuse of hands.  My chiropractor referred me here after my neurologist said physical therapy, acupuncture, and massage would not help.  I, too, was skeptical that needles in my legs would cure the pain in my hands.  I started out with two visits in a week, then once a week, then once every two weeks.  It is fascinating to see that he will put the needles on different spots–on my hands, legs, ears–to see which points are the most receptive.   I feel better a LOT better –it doesn't hurt to open a jar or turn the doorknob or use the mouse on my computer; and the treatment has lasted between visits! 
He is very knowledgeable, easy going, answers my questions, friendly, professional, and just a nice guy.  He is really likeable and has a pleasant bedside manner. I recommend wearing pants that can roll up and comfortable clothing since you are resting for a good 45-60 minutes with the needles and drinking water afterwards.  He even agreed to treat me for tightness in my traps at no extra charge! I am very pleased to have him provide me treatment.
Sandra C.       6/24/2015